I've been trying to find places to wild camp in the Brecon Beacons. I found this lovely wild camping blog post which was really inspiring. There are a number of good places to wild camp on the Black Mountain which is on the west side of the Brecon Beacons. The Black Mountains are quite wild and don't have very many visitors – so it feels like a nice place to camp.


I got some beautiful light in the morning.
The Route
I parked here – outside the Church just down from the Tefarn-Y-Garreg pub. It is just a short walk up the road to join the path. The weather forecast showed that it was going to be clear and dry on the first day but was going to be cloudy and raining the second day. I choose a route which involved doing most of the walk on the first day.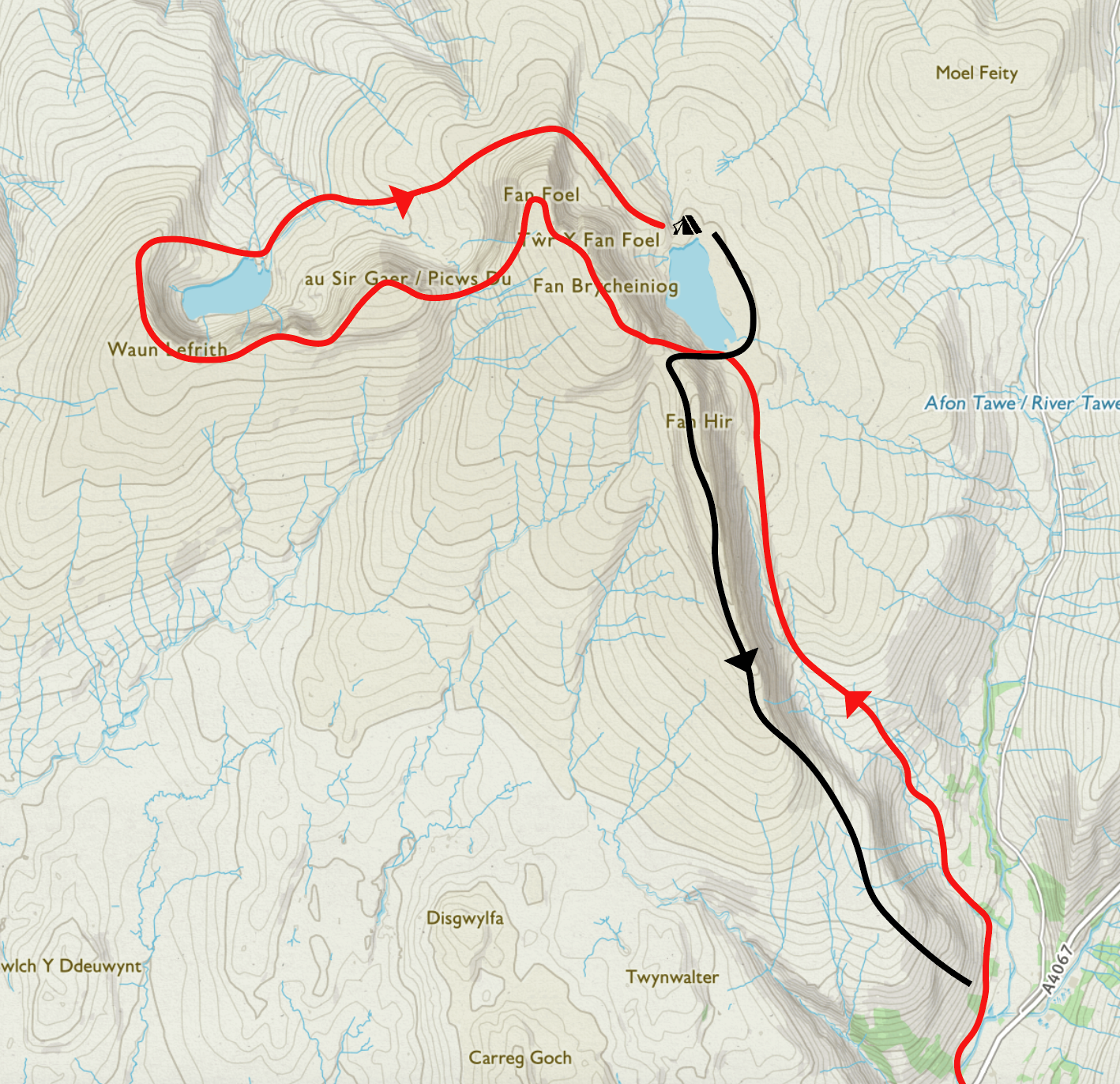 On the first day (shown in red), I walked the ridge, down to the second lake and then back under the escapement back to the first lake. The walk is really stunning. Here is a photo looking back along the ridge while over the second lake.

It took me about 5 hours. The following day, I climbed back onto the ridge from the first lake and then walked down the other side of the ridge.
Camping Location
I found a pretty flat spot perhaps just 10 metres from the lake (51.88460/-3.70052). It was out of the wind because was just below a hillock.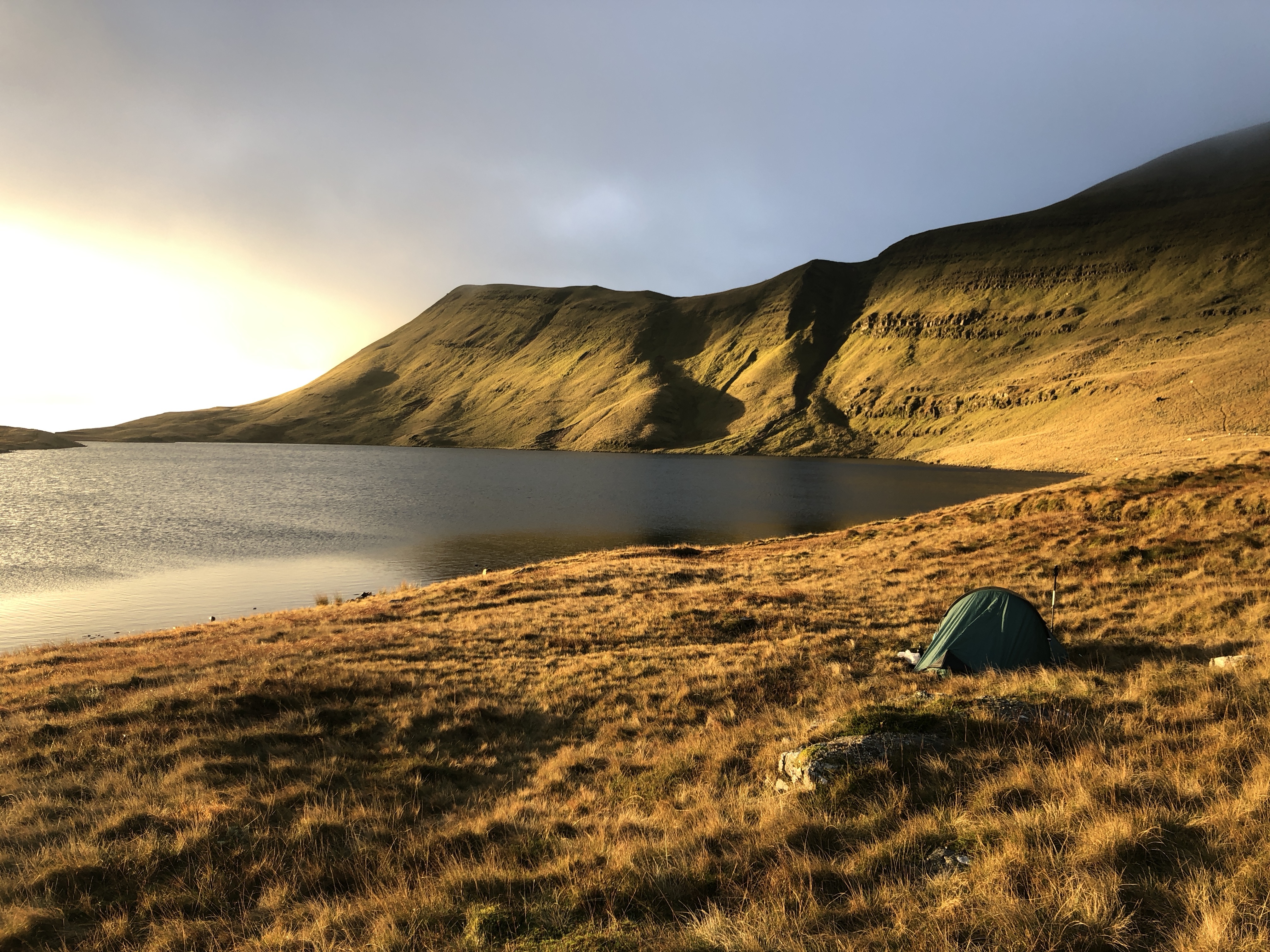 What I took with me
I tried to pack as light as possible. I have brought a Wild Country Zephyros 1. It worked really well. It's fast to put up. The only thing that I didn't like is the door which can't be clipped back. The sleeping bag was only rated 10'c comfort and 5'c limit. I have found that sleeping on an inflatable mattress and wearing a t-shirt while sleeping allows me to stretch this. It was around 3'c and I felt pretty warm.
Tent – Wild Country Zephyros 1
Sleeping Bag – Decathlon Down Sleeping Bag
Inflatable Sleeping Mat
Silk SLeeping Bag Liner
Trangia Stove + Swedish Steels
3 litres of water
Hat + Gloves
Socks x 2
Walking top x 2
Walking Trousers
Waterproof trousers and jacket
Light fleece
Puffer
Cuttlery
Map + Compass
First aid kit
Toothbrush + Toothpaste
Wet wipes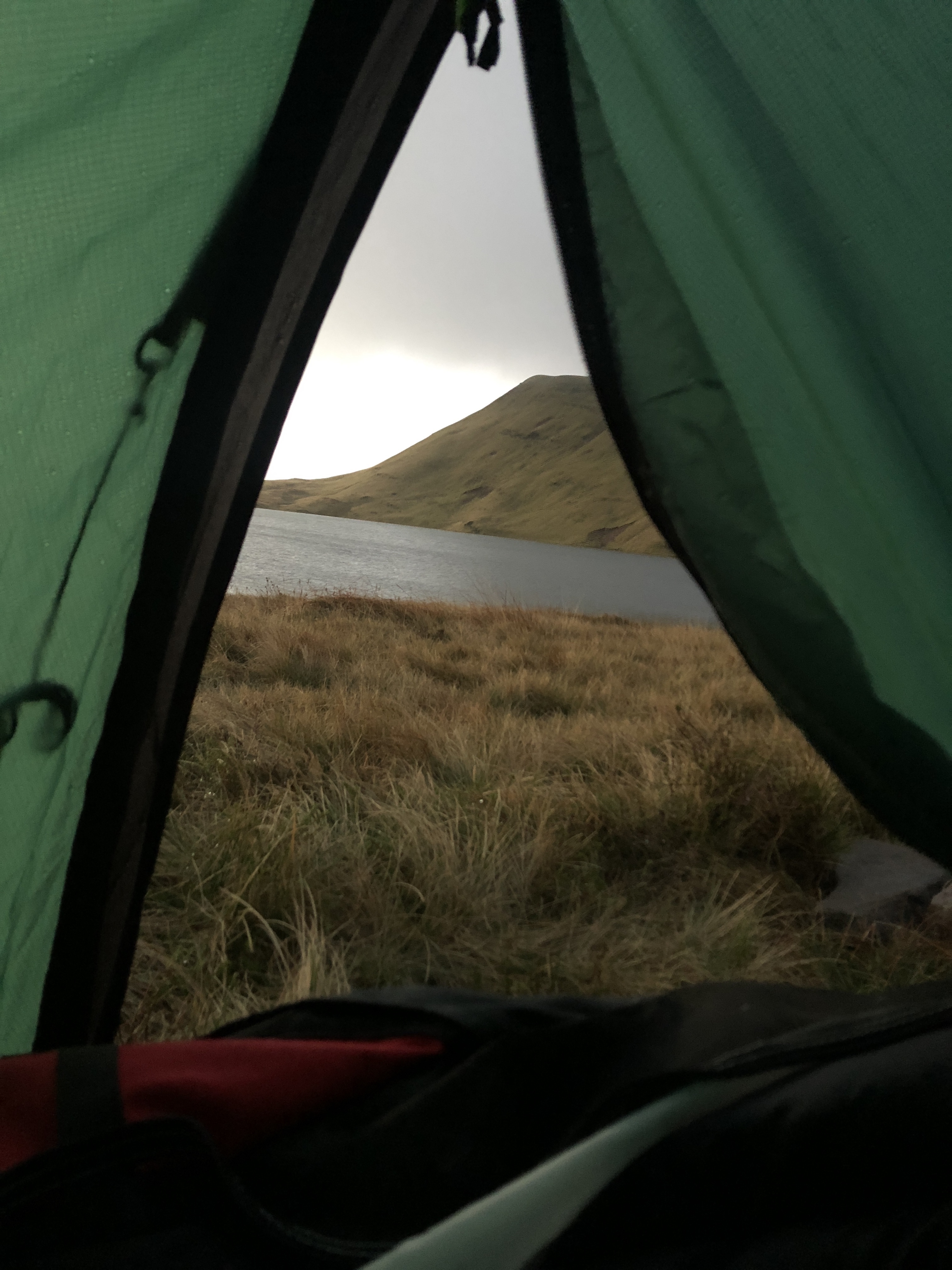 The view from the tent.
I hope post inspires someone else to wild camp here. Let me know if you do :).
p.s. I left my rucksack in the tent porch. I had taken my dog Pip with me and accidentally left some dog food on the porch. I was woken in the night by a fox which wanted the dog food and was rifling around. It had a beautiful bushy tail with a white end bit. I watched it for a while from the tent and then it finally rang off into the night.