I've just made a fresh install of backuppc on Ubuntu 14.04. However, when I visited the web interface then the browser just shows a bin file like this: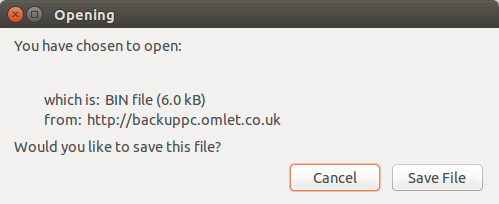 Having a bin file server from Apache (or any other web server) generally means there is a fault with the webserver and the script isn't being parsed before it's served.   A quick look at the Apache log files located at /var/log/apache2/error.log shows the problems:
unable to connect to cgi daemon after multiple tries: /usr/share/backuppc/cgi-bin/index.cgi
Apache2 isn't parsing the file through a cgi script.  The Apache server doesn't have the cgi module enabled.  You can enable an Apache module from the command line without editing any configurations.
sudo a2enmod cgid
Then restart apache2
sudo service apache2 restart
You should then have a working copy of backuppc.